BVI Athletes Are Female National Collegiate Champions
Bria Smith
Professional Cadet
Ministry of Education and Culture
Telephone: 468-3353
Email: BriaSmith@gov.vg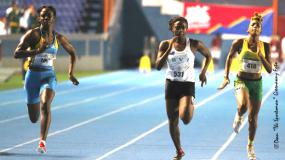 Nelda Huggins, en route to capturing CAC Jr. Championships U18 Girls 100m gold
and silver in San Salvador in 2012.
(Photo credit: Dean "the Sportsman" Greenaway)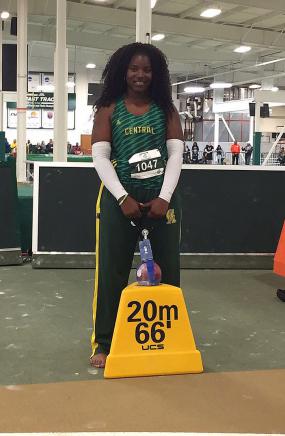 Tynelle Gumbs during National Jr. Colleges Athletics Association
Indoor Championships
in 2016. (Photo credit: Tony Dougherty)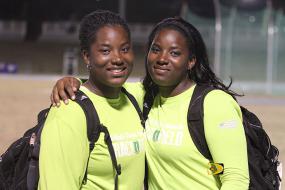 Virgin Islands athletes, Nelda Huggins and
Tynelle Gumbs, are national collegiate champions.

Ms. Huggins is a freshman at Iowa Central State and became the first female Virgin Islander to win an individual title at the collegiate level in the United States of America. She won the 60 meters dash with a time of 7.31 seconds.

Tynelle Gumbs became the 2017 D2 National Indoor Champion in the Weight Throw with a winning throw of 21.41 metres. She attends the University of Findlay along with her twin sister, Trevia Gumbs, who also competed and placed ninth in the event with a throw of 18.80 meters.

Minister for Education and Culture, Honourable Myron V. Walwyn extended congratulations to the athletes and wished them continued academic and athletic success. The Minister also congratulated their parents and coaches including Winston Potter and Coach Omary Jones of the Top Notch Track School for laying the foundation upon which they continue to build.

Honourable Walwyn said, "We are proud of our young athletes who continue to perform at a high level of excellence and proudly represent the Virgin Islands. We will continue to support sports associations like the BVI Athletic Association and Athletic Clubs as they continue to train and develop our young athletes to compete on the world stage."

The Ministry of Education and Culture continues to support Virgin Islands' athletes and young persons by ensuring that the Territory's youth excel and create a culture of excellence for themselves, and by extension, the Virgin Islands.